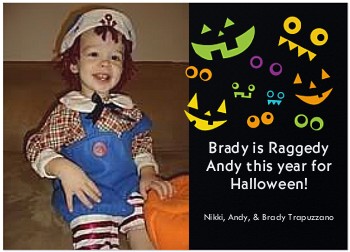 Every year, I send out a Halloween card (shown above) with Brady in costume as a sort of "grand reveal" to our closest family and friends. We decided to start sending this card out because kids look adorable in costumes and most people don't get to see them unless they live nearby. So, we keep Brady's costume a secret until early October when we send out that card. I usually wait until right before Halloween to post pictures on facebook for everyone else to seee. So this is the "grand reveal" via the internet.
This year, Brady is Raggedy Andy. I had asked Andy if his mother ever dressed him as this, since it seemed like the most obvious choice for a redhead named Andy. He said no, and when I was searching for this year's costume, I stumbled upon a Raggedy Andy costume! I just had to buy it for Brady.
He's never been the fondest of hats so I had to bribe him with some goldfish crackers.
My mom bought Brady a Madame Alexander Raggedy Andy doll to help supplement the costume and also as a keepsake of this Halloween. Brady loves his Nana!




I got Brady a special personalized candy basket for this year, since it will be his first year going out to
trick-or-treat!


And of course, what Halloween is complete without some spooky pajamas?