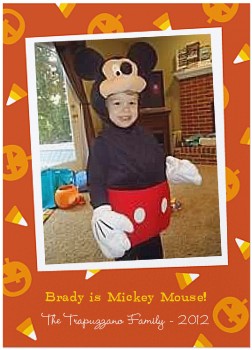 You know I love to keep Brady's Halloween costume a secret until October when I send out our annual Halloween card to our closest friends and family. I send about 45 of these, whereas I send out over 100 Christmas cards, so it's a pretty elite list.
We think it's fun to send them out because most people (especially those in the older generation who don't use computers) don't get to see kids in their Halloween costumes. I take pride in the costumes I choose, so of course I'd like to show them off!
We scored this Mickey Mouse costume at the Disney Store at the Mall of Georgia outside of Atlanta last September. I bought it in a 3T because you never know with kids and I didn't want him to outgrow it before he got a chance to wear it. If it was too big, I figured I'd wait a year. Fortunately, Brady has a very long torso, so the costume fit perfectly! We tried it on for the first time after arriving home from Germany and initially Brady wasn't too happy about it. The hat was the main problem (as it was the year before). It took a while, but with his love of candy, I got him to understand that putting on the Mickey suit would mean candy. That did the trick and as you can see from the picture above, Brady didn't give me a hard time while trying to get his picture and was actually smiling! Last year, I think I took about 50 pics before I got one I could use. He can't wait to go out and trick-or-treat around our neighborhood tonight.
Believe it (which you probably will) or not, I have already purchased next year's costumes for both Brady and Izzie. You all know I'm a planner and have had my eyes on the costume sales as we've gotten closer to the holiday. I had one plan for two boys and another for a boy and a girl. I'm a fan of the theme thing. I have both in my possession already and can't wait to see them wear them in a year!